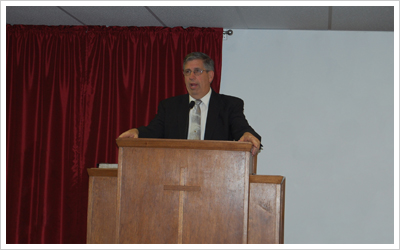 Visiting Silver City
We would like to invite you to visit Silver City Baptist Church. Our goal is to make your visit warm, friendly, and enjoyable for your whole family. We believe that God's Word is relevant and has the answers to all of life's questions. Therefore, we seek to teach and preach the Bible and its application to our lives. Our Church is a place where you can experience the love of God through His people, in such a way that you can grow closer to Him and to one another. Here are some answers to some of the questions that you may have about your visit.
Growing in the knowledge of God's Word
The Bible-based messages that you will hear, will demonstrate that God's Word is relevant and has the answers to all of life's questions. We seek to teach and preach the Bible, making practical application to every day life.
Growing through love
At Silver City you will experience a loving atmosphere, where the people love God and love one another.
When are your services?

Our church has three services each week, our main worship is on Sunday morning, where we have inspirational music and a Bible message from our Pastor.

Sunday
9:30 AM Classes for all Ages
10:30 AM Morning Worship Service
6:00 PM Evening Service

Wednesday
7:00 PM Midweek Prayer Service

How do I get to Silver City Baptist Church?

What can I expect?

During the 10:30 worship service our adults enjoy beautiful and inspiring music followed by a clear, helpful, and challenging message from God's Word. Our services are about one hour long. Before the main worship service, at 9:30 we have Bible classes for all ages available where you and your family can meet new people, and hear a teaching lesson directly applicable to where you are in your life. These Bible classes can be the best way to get to know the people of Silver City Baptist Church.

Where do I take my children?

Starting with an excellent nursery, there is something special for every age child. At every service there is a safe, clean, and highly staffed nursery for children two years old and under. For children three years old through sixth grade there are fun, friendly, and Bible-centered classes. These classes are staffed with trained, friendly, and well-qualified teachers and helpers who will make church exciting and memorable for your child.

Other questions?

If there's something we missed on this list, just give us a call, or ask someone when you arrive. Whether you're new to the area and looking for a church home, or if it's been a long time since you've attended church at all, we hope your first visit at Silver City will be awesome! We want to serve you and your family, and we are looking forward to meeting you personally. Let us know how we can serve you better, and we hope to meet you this Sunday!